Calle de siempre
Zhongxiao Dunhua (2009, for electronics)

It's been almost a month since I came to Taipei. Obviously a lot has happened since my last post! I'm really enjoying it here. So much is going on, but with all the stimulation only now am I finding time to react creatively to what I'm seeing!
Any newcomer here will learn the city from the MRT stops first. The piece above is named after the intersection of Zhongxiao and Dunhua roads, where there is a very large MRT stop. Zhongxiao has its own MRT "blue" line; it cuts across the entire city and is lined with all kinds of commerce and interesting people. It's always very crowded, except late on a Sunday night after your gig: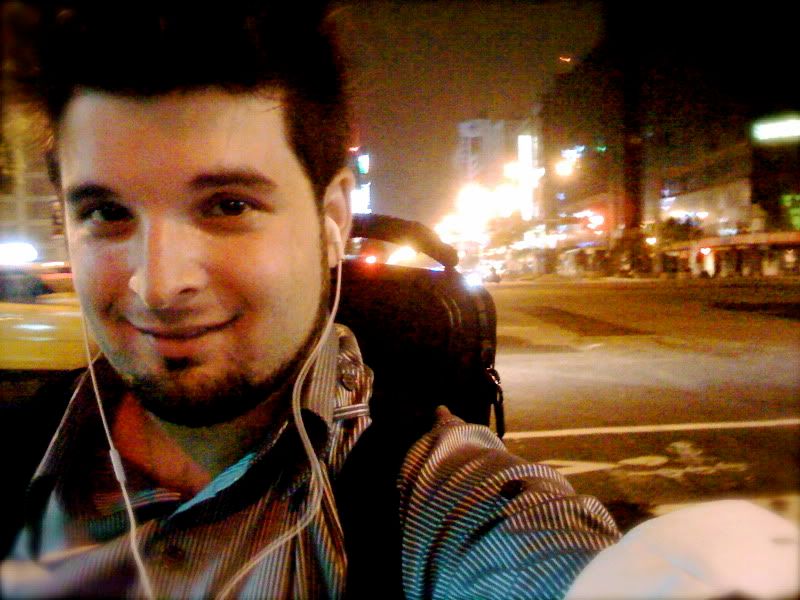 What can I say? I had the cab driver drop me off here so I could snap a photo for you to see, but all I got was this empty street! It's the opposite of what normally goes on here. Nothing compares to the awesome sprawl of this street. It just keeps going, and only more places, people and avenues reveal themselves along the way. It's overwhelming and exciting, and it reminded me of this line from a poem by Borges:
¡Qué lindo atestiguarte, calle de siempre, ya que miraron tan pocas cosas mis días! (How lovely it is to attest to you, street of forever, since my own days have witnessed so few things!)
Hope you enjoy it!