Not Quite Messiaen (Not Even Close)
I'd say the Inauguration went off without a hitch, wouldn't you? History making: yes. Astonishing numbers of people: check. Moving speech from qualified + tactful new leader: shazam! Old money gone ASAP, or as fast as the wheel chair could carry him out: done. Tragically we all had to learn about Ted Kennedy's fall, but there was little turbulence on top of that. Still, maybe I'm the only one who's bothered by this: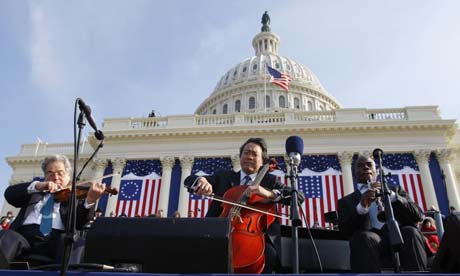 (Man, I tried so hard not to be any kind of musical elitist on this blog, but here is where I've completely lost it; this really frosts my cake.)
I had my hopes up for the scheduled inaugural performance by Itzhak Perlman, Yo-Yo Ma, Gabriela Montero and Anthony McGill, slated and first leaked back in December by The Detroit News and just after brought to wider attention by Alex Ross. We weren't sure what to expect, only the performance of a work for violin, cello, clarinet and piano… hmm, there aren't too many pieces meeting those specs. :::gasp::: Could it be?? Certainly it could. Yes we can! Yes it could! It would have been entirely appropriate at the sight of this historic event for a performance of Olivier Messiaen's (dare I say timeless?) Quartet For The End of Time, and anyone reading Alex Ross' blog would have agreed.
Could there potentially be a piece of music, anything really, more moving than this? Apparently so. Aaron Copland, popularly known as a homosexual and a communist but who's music has been the locus of Americana and popularized by many Republican campaign tickets, was our star composer of the day. I say this lovingly because I enjoy Copland's ballet music as much as the next guy, I certainly don't mind his own politics for which he came under attack, and also because we owe Copland's name to any arrangement of "Simple Gifts." Not even John Williams will be remembered for his craptastic "arrangement" heard around the globe today.
I have this mental image of John Williams receiving the commission, thinking "Oh yea, this one'll be easy!" and, completely aware that almost no composing will be necessary for the piece, immediately farming out the arranging to a few novice minions in his army of Hollywood orchestrators.  "How far ahead of schedule are we on music for Harry Potter XXXVII? Good! Hey Boopsie! Lombordozzi! Anastasio! You look like you got nothin'a do. Get over here and do this commission for the government. Take ya five minutes."
There should be a futures market on the lifespan of John Williams vs. Randy Newman. Here are two composers we could stand to hear less of at MacWorld Expos and really really important historic events. Yes, I know it helped to choose the music of a "populist" composer and get another real live "populist" composer to do the arrangement for our amazing musicians, but that's just it: our musicians were capable of so much more and could have played an absolutely vital and appropriate piece with such a bigger message! Instead, we got the same old "Where's the Beef" act. Despite the let down, there's still plenty of hope and change in the days ahead – and nicely enough for those of us in the arts.
As someone who works in sheet music, I'm sure I'll be seeing my copy of John Williams' Air and Simple Gifts for violin, cello, clarinet and piano on New Issue any day now, and I will proudly and properly christen it by use as toilet paper. It will still sell and make as much money, if not more, as his Olympic Fanfare and Theme. Oy.